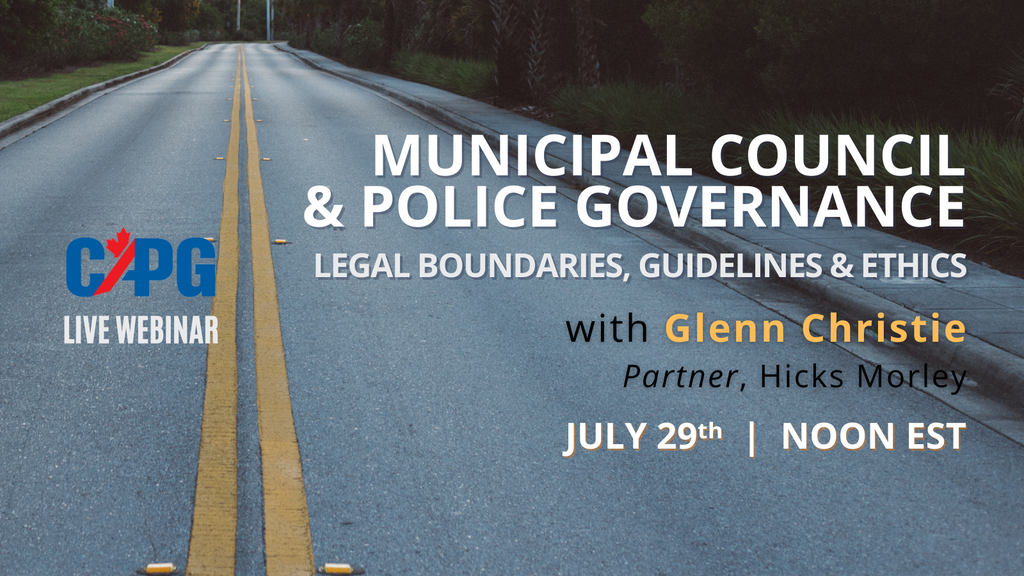 RECORDING *Non-Member Pricing* 2021 July - Municipal Council & Police Governance – Legal Boundaries, Guidelines & Ethics
---
Members of police boards and commissions across Canada can be a mix of provincial and municipal appointees, mayors, councillors and members of the community and this can create some questions around decision making. Each director or commissioner, no matter how they take their seat at the table, needs to ensure they exercise their powers in compliance with their legislated authority (their Police Act), while representing the people they serve. Members of council, mayors and provincial appointees may sometimes have difficulty keeping their 'Police Board/Commission Hat' on while they are in the midst of negotiations on budgets, setting strategic directions and policies. Decision making can be muddled. How do you ensure it remains independent?
In this webinar with Glenn Christie will tackle some of the tough issues:
Who do you answer to?

Who do you answer for?

What happens when directors/commissioners overstep their boundaries

How do you ensure you are accountable, effective and transparent?

What are the checks and balances you can use?

Role of mayors and councillors in decision making

Provincial and municipal elections and the impacts on setting strategy and budget
Negotiating/collective bargaining and police governance
Glenn Christie, a labour and employment lawyer in Hicks Morley's Waterloo office, provides strategic advice and legal services to a wide range of clients and is known for his practical and proactive approaches to client problems.

Glenn's advocacy practice places him before the courts, arbitrators, the Ontario Labour Relations Board and the Human Rights Tribunal of Ontario. A very experienced negotiator, he has acted as spokesperson in several rounds of high profile, politically sensitive collective bargaining. Governance and other types of organizational support are also an important part of his practice.

Glenn is a leader in providing advice to Police Services Boards on a wide variety of issues, including Police Services Act prosecutions.

---
Share this Product
---
More from this collection