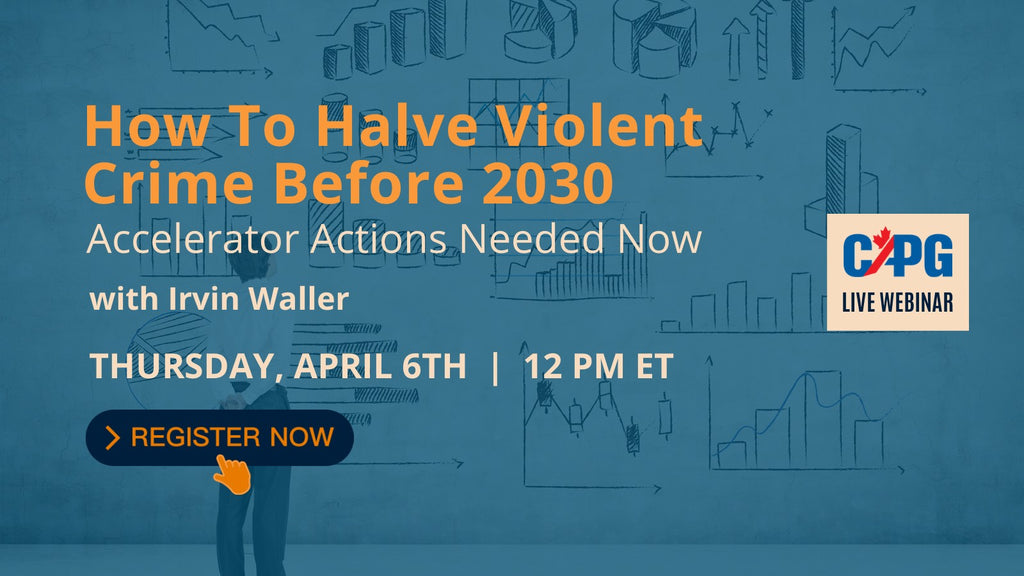 RECORDING - April 2023 Webinar Non-Members
---
How to Halve Violent Crime before 2030 – Accelerator Actions Needed Now Irvin Waller (Speaker TBC)
Thursday, April 6th, 2023
12:00pm – 1:30pm ET
Violent crime and police budgets are increasing, while knowledge of how to stop violent crime gets stronger but sits idle. Irvin Waller wrote Science and Secrets of Ending Violent Crime (2019) to provide decision makers with access to the knowledge and "accelerators" to get it used. The book is based on an encyclopedic analysis of fifty years of international research and development on what reduces violent crime. It identifies a short list of programs that help young men prone to violence, including: outreaching to them in their communities; working with their parent(s); providing them with life skills at
schools; and, increasing access to hope and jobs. It creates a gold standard on how to use this knowledge from guidelines agreed by governments in UN fora and from examples of cities that have already reduced violence by 50%. It makes a compelling case for investing in what works. Governments and municipalities are tinkering in Canada with short term projects and community safety plans to use this evidence. Canada needs champions to strengthen and implement these plans. It needs accelerators to help decision makers have confidence in these solutions. It needs officials who know the knowledge and are trained in planning its use to get results.

Irvin Waller is an Emeritus Professor of Criminology at University of Ottawa. He has written the books on Smarter Crime Control and Science and Secrets of Ending Violent Crime. He continues to be consulted across the world by governments and cities on how to halve violent crime before the UN date of 2030. He would like Canada to be a leader in achieving these reductions. He has served on national commissions in Canada, South Africa, United Kingdom and United States. He has gained particular recognition for pioneering the UN General Assembly Resolution on Principles of Justice for Victims, and for his contributions to prevention in Belgium, Mexico and Spain and role in launching the International Centre for Prevention of Crime affiliated with the UN in collaboration with Canada, Quebec, US and several European governments. He has a Ph.D. from the University of Cambridge.
Register now to secure your spot and mark your calendar for April 6th, 2023 @ 12pm ET. We look forward to seeing you there!
*The CAPG endeavors to ensure all of the webinar titles and dates are as listed but some might be subject to change due to extenuating factors and we will notify you when this happens.*
---
Share this Product
---
More from this collection