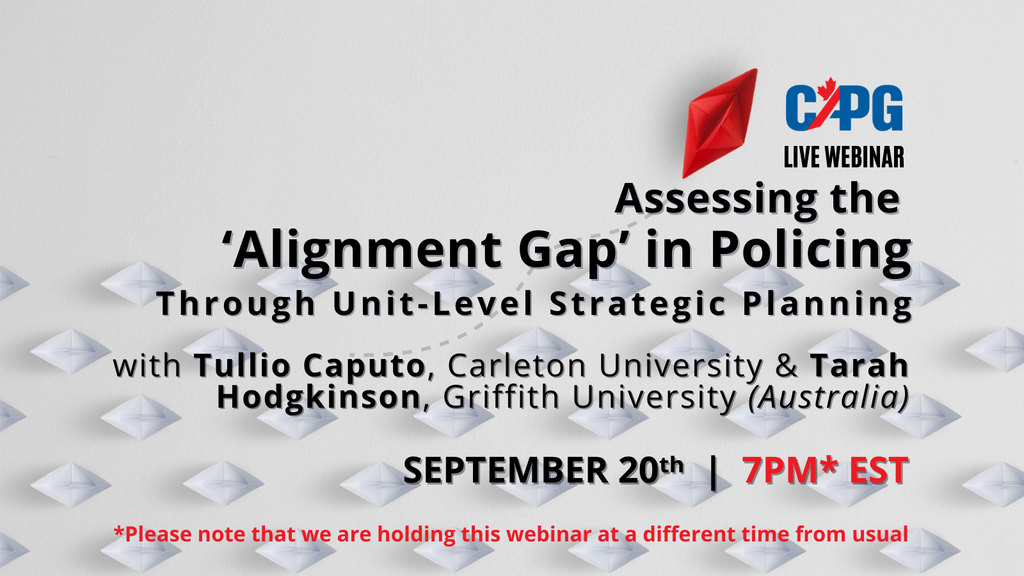 RECORDING *Non-Member Pricing* 2021 September - Assessing the 'Alignment Gap' in Policing Through Unit-Level Strategic Planning
---
The "Alignment Gap" refers to the disjuncture that exists in many organizations between what leaders say and advocate for publicly and the actions of organization members. In this era of hyper accountability and the "defund the police" movement, in particular, the alignment gap represents an area that should be of particular concern to police leaders and oversight bodies. 

The webinar will be an overview of the work our presenters have been doing related to strategic planning as well as a discussion of the "alignment gap" in policing. They will discuss examples from their research on how alignment gaps can be addressed in a way that is beneficial for the public, the police organization, frontline officers, and those charged with governance. 

Throughout this webinar, Tarah and Tullio hope to stimulate discussion, so attendees should expect ample time to interact with our presenters and other attendees.
Dr. Tullio Caputo 
Dr. Caputo is an Adjunct Professor in the Department of Sociology and Anthropology at Carleton University where he has taught since 1987. He has also lectured at the Canadian Police College since 1993 in the Senior Police Administration Course, the Executive Development in Policing Programme and in the International Best Practices programme. For the past thirty years, Dr. Caputo has done extensive research and writing in the areas of criminology and criminal justice policy. He has conducted numerous research projects focusing on the role of the police in society including their participation in multi-sector, community-based crime prevention initiatives. Currently, Dr. Caputo is working with colleagues on the development of a sustainable policing framework designed to assist police leaders, oversight bodies and community stakeholders to create more successful, accountable and sustainable policing organizations.

Dr. Tarah Hodgkinson
Dr. Tarah Hodgkinson is an assistant professor in the department of criminology at Wilfrid Laurier University. Her research focuses on policing, collaborative governance, spatial criminology, crime prevention and victimology. Using an action-research framework, she works directly with communities and organizations to build solutions from the bottom-up. She is also a SafeGrowth(R) practitioner and works with neighbourhoods across North America and Australia to reduce crime and improve community cohesion
---
Share this Product
---
More from this collection