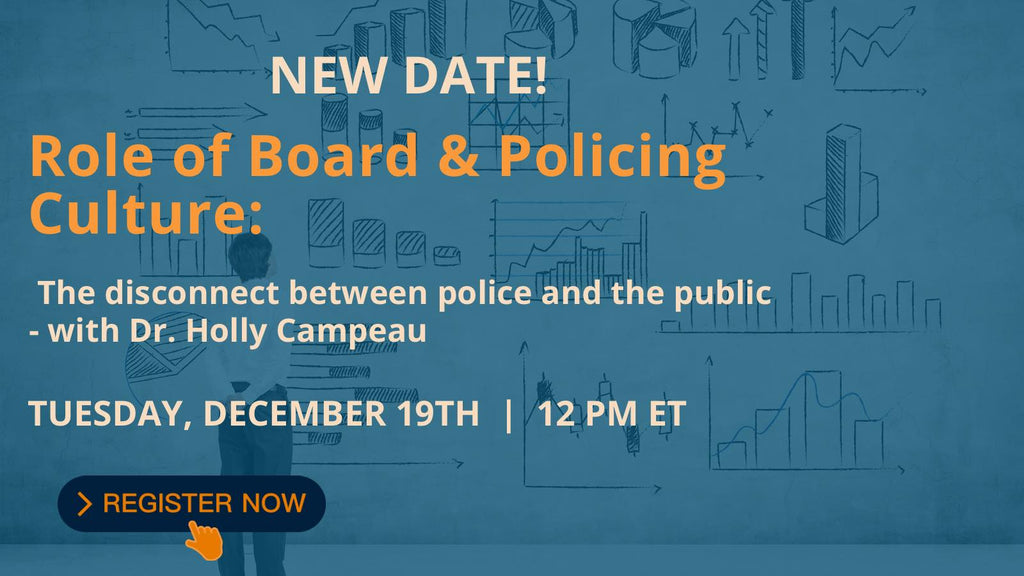 November 2023 Webinar - Non-Members
---
Due to an unforeseen illness, our November webinar:
Role of Board & Policing Culture – The disconnect between police and the public. – with Dr. Holly Campeau
will be postponed until the 19th of December. 
Apologies for any inconvenience!
Dr. Campeau is an Assistant Professor of Sociolegal Studies at the University of Waterloo specializing in the intersection between criminology, cultural sociology, and sociology of law. 

She is also a Senior Researcher with the Global Justice Lab at the Munk School of Global Affairs & Public Policy at the University of Toronto, focusing on justice reform. 

Dr. Campeau's research uses fieldwork and qualitative methods to 

shed light on "how culture works" in the broader field of law and criminal justice, as well as the system of relations among its members. 

She has published several papers on "police culture" and the impacts of various changes in policing

, and recently turned her focus toward arrest encounters to unpack the "dual perspective" of police-citizen interactions through interviews with both frontline officers and individuals who are detained.  
In an era marked by heightened concerns about law enforcement and community relationships, the webinar on the "Role of Board & Policing Culture – The disconnect between police and the public" is poised to be a critical and thought-provoking exploration of this complex issue.
This narrative begins with the recognition that police departments and the communities they serve often find themselves on opposite ends of a disconnect. Public perceptions of law enforcement can be influenced by numerous factors, from historical tensions to recent high-profile incidents. Conversely, law enforcement agencies often grapple with the challenge of building trust, maintaining public safety, and adhering to evolving standards of conduct and accountability.
The event, scheduled for November 30th, 2023, brings to the forefront Dr. Holly Campeau, an expert in the field. Dr. Campeau's background in law enforcement and her academic pursuits uniquely position her to shed light on the intricate dynamics between police forces and the public.
Throughout the webinar, attendees can expect a comprehensive examination of the factors contributing to the disconnect between police and the community. Dr. Campeau is likely to explore issues such as systemic bias, use of force, accountability mechanisms, and community engagement. By delving into these topics, the narrative aims to foster a deeper understanding of the root causes of the divide.
Attendees will have the opportunity to participate in a candid and informed discussion, sharing insights, perspectives, and solutions to mend this vital relationship. As the dialogue unfolds, it's anticipated that the narrative will evolve from one of disconnect to one of connection, as individuals from various backgrounds come together to explore ways to bridge the gap between law enforcement and the public.
Ultimately, the webinar serves as a pivotal chapter in the ongoing narrative of policing and community relationships. By addressing the challenges head-on and seeking solutions, it aims to contribute to a future where police and the public can work together harmoniously, fostering safer and more inclusive communities.
*The CAPG endeavors to ensure all of the webinar titles and dates are as listed but some might be subject to change due to extenuating factors and we will notify you when this happens.*
---
Share this Product
---
More from this collection