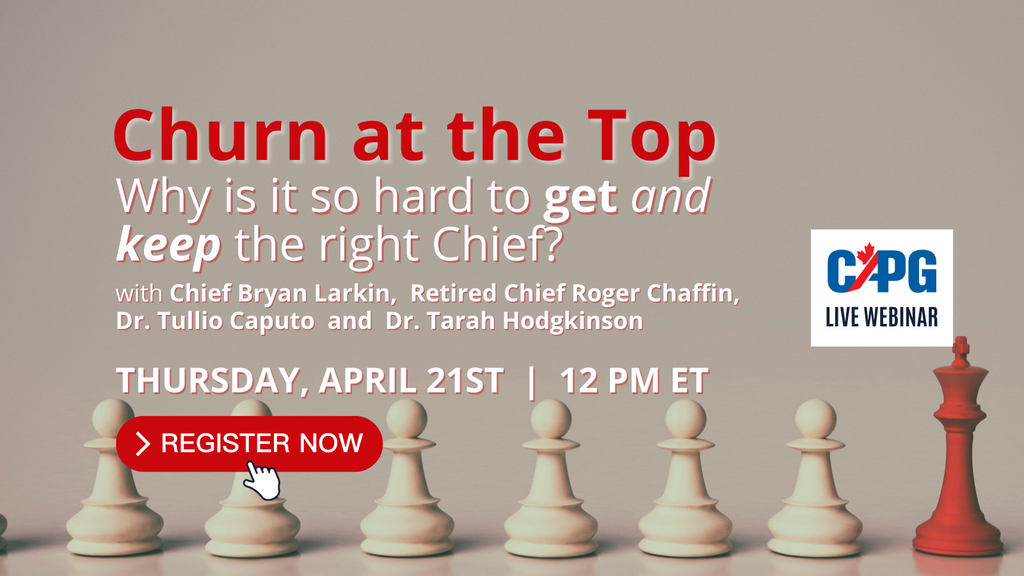 RECORDING: *Non-Member Pricing* 2022 April - Churn at the Top – Why is it so hard to get and keep the right Chief?
---
Over the past decade, boards have seen more turnover in their chief positions than ever before.

➤ How can we better attract candidates, and keep them on board?

➤ Why are some boards able to find the right chiefs (and even have them stay long enough to retire), while others can't seem to find that sustainable fit?

➤ What makes the difference?

➤ Is your succession plan working?

A distinguished panel with on-the-field experience and research-backed insights will discuss various aspects of recruiting and retaining the "right" choice as police chief, with a focus on issues of competency, skills, leadership style and values.

Join us for this timely discussion on recruiting and retaining the right Chief. 

Chief Bryan Larkin
Bryan M. Larkin was appointed as the 7th Chief of Police of the Waterloo Regional Police Service on August 31, 2014 by the Waterloo Regional Police Services Board.

Bryan began his policing career in 1991 as a member of the Waterloo Regional Police Service, working as a front-line Constable assigned to Division #1 in Kitchener. Over the course of his career, Bryan has held a number of progressively responsible positions including; Community and Media Relations, Special Assignments, Traffic Services, Human Resources, Recruiting, Media Officer, Executive Officer to the Chief of Police, and Superintendent of Central Division.

Chief Larkin is an active member of the Canadian and Ontario Associations of Chiefs of Police. He serves the Ontario Association of Chiefs of Police as Past President as well as represents the OACP on the Ontario Police Memorial Foundation and is the Co-Chair of the Provincial Police Joint Health and Safety Committee. Bryan also serves as the co-chair on the CACP Drug Advisory Committee. Bryan is a member of the Board for Nutrition for Learning and is a member of the United Way Campaign Cabinet for Waterloo Region Communities.

Bryan is a strong believer of community volunteerism and is proud to support many causes including the United Way and Ontario Special Olympics. In 2013, Bryan was recognized for his longstanding commitment to community volunteerism and for his leadership within the OACP and awarded the Queen's Diamond Jubilee Medal. In September 2016, Bryan was invested as a Member of the Order of Merit of the Police Forces by his Excellency the Right Honourable David Johnston.

Chief Larkin is committed to enhancing the effectiveness of operational policing services while developing long-term strategies to build a strong, vibrant and healthy Waterloo Region.

Roger Chaffin O.O.M (Retired Chief of Police)
Roger Chaffin served with the Calgary Police Service for over 33 years, the last 3 of which he served as the Chief of Police. In his professional policing career he has led most (if not all) operational and administrative functions that comprise modern Canadian policing. He has received his policing education locally, provincially, nationally and internationally, has served in the executive of the Canadian Association of Chiefs of Police, The Alberta Association of Chiefs of Police, as well as served on numerous boards on not for profit organizations across Canada. Since his retirement he serves as a volunteer on several community boards in the Calgary area, provides consultancy advice on projects relating to policing in Canada, and sits as an advisor with a national not for profit advocating for systemic reforms in Canadian policing. He has been awarded with the Canadian Order of Merit (Officer Level), the Queens Diamond Jubilee, and the Provincial Long Service medal.

Dr. Tullio Caputo 
Dr. Caputo is an Adjunct Professor in the Department of Sociology and Anthropology at Carleton University where he has taught since 1987. He has also lectured at the Canadian Police College since 1993 in the Senior Police Administration Course, the Executive Development in Policing Programme and in the International Best Practices programme. For the past thirty years, Dr. Caputo has done extensive research and writing in the areas of criminology and criminal justice policy. He has conducted numerous research projects focusing on the role of the police in society including their participation in multi-sector, community-based crime prevention initiatives. Currently, Dr. Caputo is working with colleagues on the development of a sustainable policing framework designed to assist police leaders, oversight bodies and community stakeholders to create more successful, accountable and sustainable policing organizations.

Dr. Tarah Hodgkinson
Dr. Tarah Hodgkinson is an assistant professor in the department of criminology at Wilfrid Laurier University. Her research focuses on policing, collaborative governance, spatial criminology, crime prevention and victimology. Using an action-research framework, she works directly with communities and organizations to build solutions from the bottom-up. She is also a SafeGrowth(R) practitioner and works with neighbourhoods across North America and Australia to reduce crime and improve community cohesion.

---
Share this Product
---
More from this collection