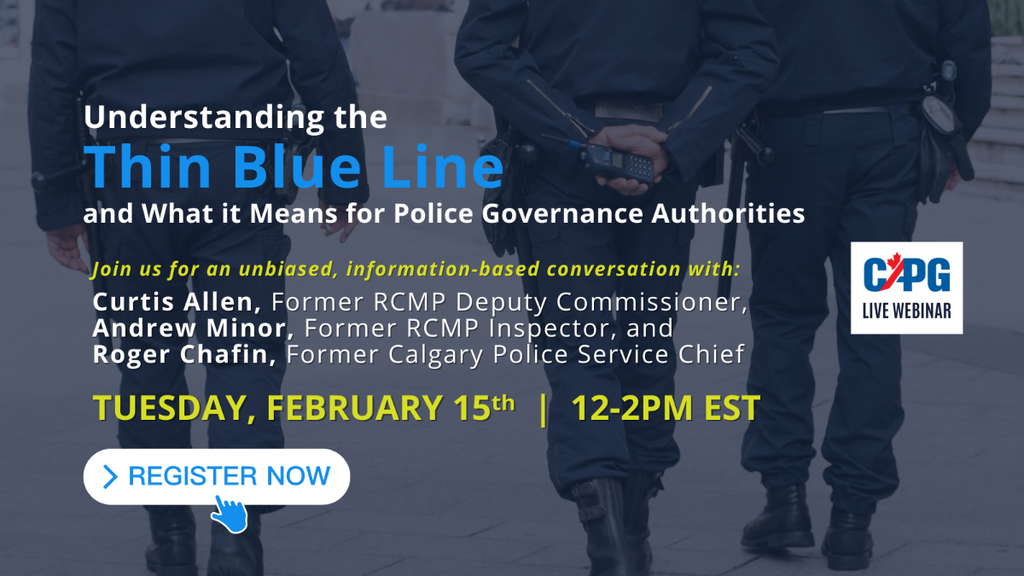 RECORDING: *Non-Member Pricing* 2022 February - Understanding the Thin Blue Line and what it means for Police Governance Authorities
---
What is The Thin Blue Line?
Is it nothing more than a patch on a uniform?
Or does it signal a need to reflect on the leadership model and governance role in police culture?
We invite you to join us for an unbiased, information-based conversation on a topic that has been misrepresented in media, hijacked by bad players and therefore requires a degree of understanding by police governance authorities.
Our panelists will share their unique perspectives on what the "Thin Blue Line" means to them and what police board and commission members need to know. The webinar is a frank, open conversation, and it is not meant to create division or rancour within the police community. The Canadian Association of Police Governance was founded to educate our member police boards and commissions on emerging issues and we believe relevant information and discussion on this topic is important.
SPEAKERS:
Roger Chafin, Former Chief, Calgary Police Service
Roger Chaffin served with the Calgary Police Service for over 33 years, the last 3 of which he served as the Chief of Police. In his professional policing career he has led most (if not all) operational and administrative functions that comprise modern Canadian policing. He has received his policing education locally, provincially, nationally and internationally, has served in the executive of the Canadian Association of Chiefs of Police, The Alberta Association of Chiefs of Police, as well as served on numerous boards on not for profit organizations across Canada. Since his retirement he serves as a volunteer on several community boards in the Calgary area, provides consultancy advice on projects relating to policing in Canada, and sits as an advisor with a national not for profit advocating for systemic reforms in Canadian policing. He has been awarded with the Canadian Order of Merit (Officer Level), the Queens Diamond Jubilee, and the Provincial Long Service medal.

Andrew Minor, CAPG Director and Former RCMP Inspector
A.J. (Andrew) Minor is from Winnipeg, Manitoba where he graduated from the University of Manitoba in 1986 with a Bachelor of Arts (Economics). After graduation, Andrew joined and served in the RCMP in British Columbia, Northwest Territories, Manitoba, Nunavut and Ottawa, retiring in 2013, at the rank of Inspector.

In June 2013, Andrew was appointed Executive Director of the Manitoba Police Commission (MPC) where he was at the forefront of implementing police board governance in Manitoba and the establishment of the MPC Civilian Monitor Program designed to monitor mandated Independent Investigation Unit investigations into incidents of police involved deaths.

Andrew continues to train, provide policy advice and problem to all 11 municipal and First Nations police boards in Manitoba, and in June 2020 was named Commissioner of Manitoba's Law Enforcement Review Agency, in addition to his duties at MPC.

In addition to his experience in policing, police governance and police oversight, Andrew has experience in strategic management, business process management, and change management. Andrew completed a post baccalaureate diploma in Management from Athabasca University in 2013.


Curtis Allen, CAPG Director and Former RCMP Deputy Commissioner
Curt Allen was appointed by the Province of Ontario to the Halton Police Board on May 10, 2019. Mr. Allen retired from Scotiabank in February 2015 where he was Vice President and Chief Security Officer. Before this role, he served as Royal Canadian Mounted Police deputy commissioner for Ontario and Quebec, deputy commissioner national headquarters, and deputy commissioner national police services and technical infrastructure, following his work as RCMP chief human resources officer. Among his many professional associations, Allen was a member of the International Association of Chiefs of Police, the Canadian Association of Chiefs of Police and the Conference Board of Canada Security Executives Council.

Mr. Allen is dedicated to volunteering and community involvement and has served on many boards, committees, clubs, and organizations over the years. He is currently serving on the Ontario Hunan Resource Professional Association and the Ontario Association o Police Service Boards. Curt resides in Oakville with his wife where he supports several community organizations including youth hockey and has been very active supporting baseball leagues and children's hospitals.
---
Share this Product
---
More from this collection