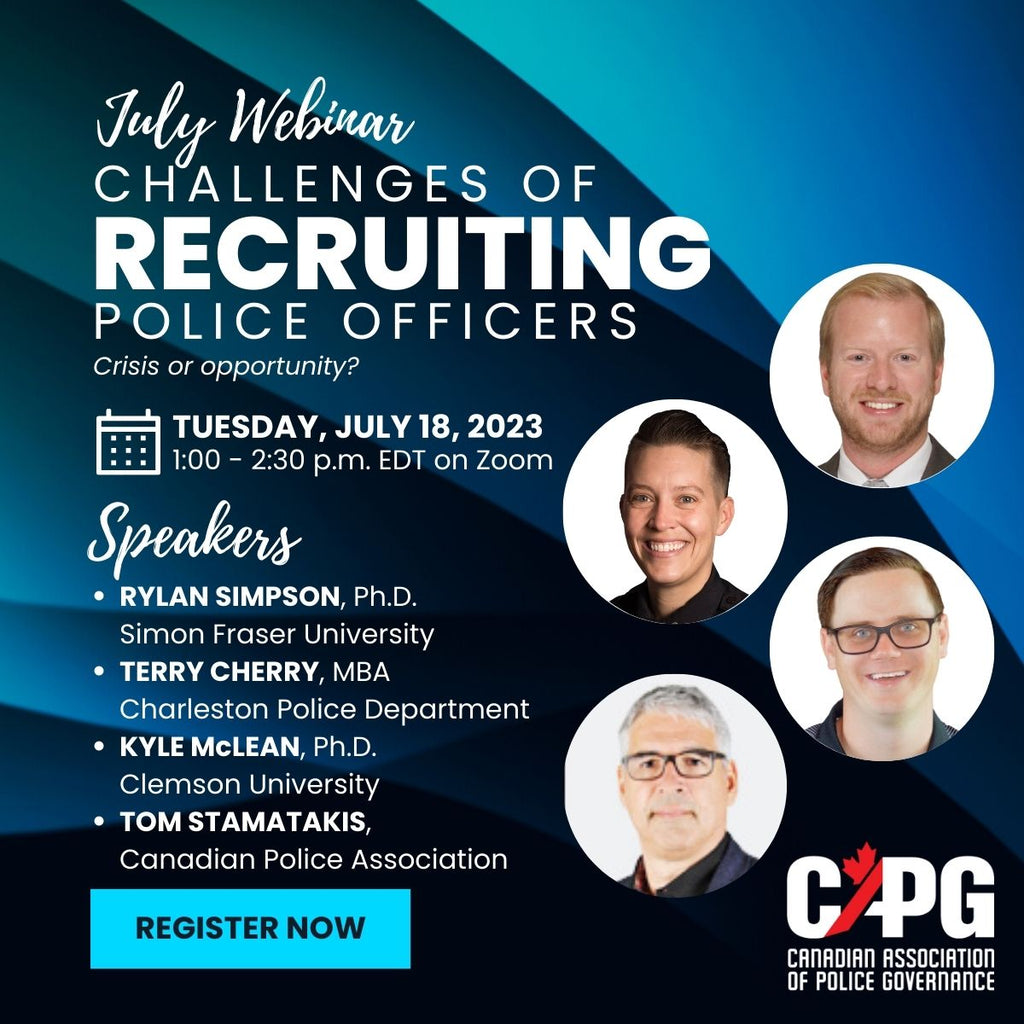 RECORDING - July 2023 Webinar - Non-Members
---
CHALLENGES OF RECRUITING POLICE OFFICERS – Crisis or opportunity?
 
"There isn't a chief in Canada who doesn't need to pay close attention to recruiting and I can tell you it's one of my major areas of focus" Steve Bell A/Chief Ottawa Police Service

Webinar on July 18 @ 1:00 pm Eastern

Defund. Stress. Burnout. Low Morale. Officer Deaths. Work and responsibility overload.
Public perceptions ranging from overpaid traffic wavers to under-valued social workers. Why would anyone want to become a police officer today? Who is interested in a career in policing?

With a growing number of experienced officers retiring there is a huge demand for
police recruits. There is an opportunity to shape the face of policing in the next decade
by recruiting a cohort of officers who can meet the demands of policing the future. Our societies are multi-cultural, technology driven and not always supportive of police. We are seeing the employment profile of police services changing to adapt to the complex nature of crime, growing community needs, wants and values that they want translated into community health, safety and wellbeing.

Presenters:

Rylan Simpson, Ph.D. Assistant Professor School of Criminology Simon Fraser University

Senior Police Officer Terry Cherry Recruiter - City of Charleston Police Department
Recruitment and Selection

Kyle McLean CLEMSON UNIVERSITY
Assistant Professor - Department of Sociology, Anthropology and Criminal Justice College of Behavioral, Social and Health Sciences Building People and Communities

Tom Stamatakis - Canadian Police Association
*The CAPG endeavors to ensure all of the webinar titles and dates are as listed but some might be subject to change due to extenuating factors and we will notify you when this happens.*
---
Share this Product
---
More from this collection