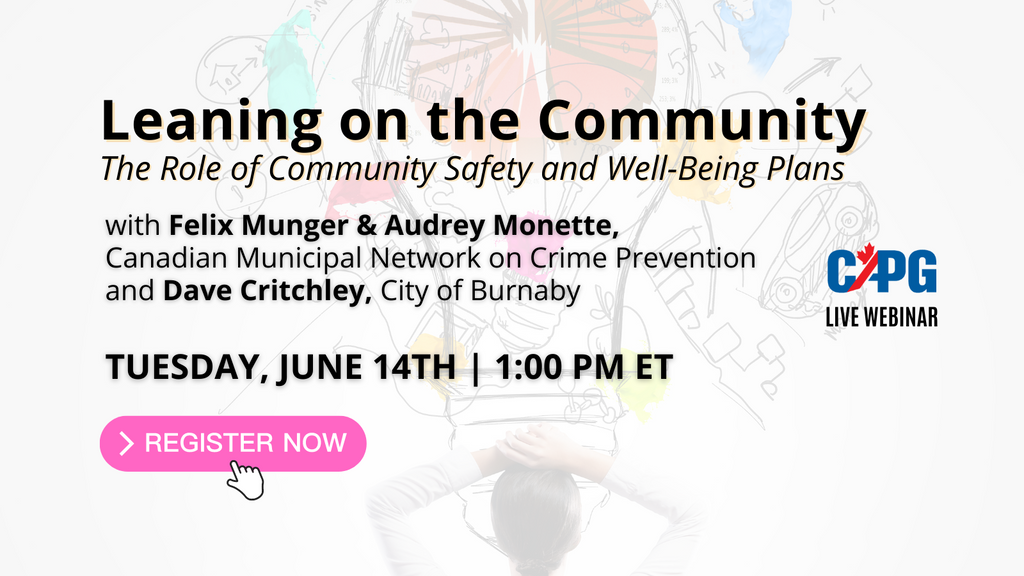 RECORDING *Non-Member Pricing* 2022 June - Leaning on the Community: The Role of Community Safety and Well-Being Plans
---
Community Safety and Well-Being (CSWB) plans are about recognizing that community safety is not just the responsibility of the police, but a collective approach among community members, health and social services, education, housing providers, enforcement, businesses, and local councils, to name just a few.

→ Have you heard of other communities across the country that are developing Community Safety and Well-Being plans and wondered what they are?
Or
→ Do you have a sense of what those CSWB plans are but want to know how your local police governing body can support the work?

The webinar will discuss the history and growth of CSWB plans, the intersection of social challenges and local safety, processes of CSWB plan development, and more using examples from across Canada including the City of Kelowna (BC), the City of Burnaby (BC), the City of Regina (SK), the Town of Morinville (AB), and the Kent Regional Service Commission (NB). A specific focus will be placed on tools and resources and discussing the potential role of police governance bodies to support local CSWB planning.

Join representatives from the Canadian Municipal Network on Crime Prevention and practitioners for a webinar to learn more about CSWB and the plan development process.
SPEAKERS: 
Felix Munger
Executive Director, Canadian Municipal Network on Crime Prevention (CMNCP)
Felix joined CMNCP in 2015. He brings experience as a mental health and addiction clinician, program planner, and evaluator. He has over 20 years of experience facilitating strategic planning, priority setting, and collaboration building across Canada with a wide range of stakeholders including equity-deserving and Indigenous communities. Originally trained as a psychiatric nurse, he has experience in community safety, organizational collaboration, addiction (including harm reduction), EDI (equity, diversity, inclusion), and organizational capacity development. He holds a master's degree in environmental studies and a PhD in community psychology. Most recently, his work focuses on the impacts of climate change on community safety at the local level. Felix resides in Waterloo Region, Ontario, which is the traditional territory of the Haudenosaunee, Anishinaabe, and Neutral peoples.

Audrey Monette
Director of Projects and Research, CMNCP
Audrey joined CMNCP in 2016. She leads diverse projects related to community safety and well-being (CSWB), including facilitating training sessions, conducting research, and developing CSWB plans. With a master's degree in critical criminology, she advocates for non-carceral approaches to ending gender-based violence, preventing victimization, and improving victims' and prisoners' rights. She is also a member of the University of Ottawa Crime Prevention Team where she leads research and knowledge mobilization initiatives. Audrey is passionate about community-led approaches to safety and well-being that are rooted in equity, social justice, and dismantling systems of oppression. Audrey resides on the traditional unceded territory of the Algonquin Anishnaabeg People, colonially known as Gatineau, Québec.

Dave Critchley
General Manager Community Safety, City of Burnaby
Dave Critchley is the General Manager of Community Safety for the City of Burnaby which is located in the Metro Vancouver Region and the third largest municipality in BC. He was appointed to this role in September of 2016 and in this role, Dave provides oversight of the Burnaby RCMP, Burnaby Fire Department, Risk Management & Emergency Planning and Property Use and Parking Enforcement.

Prior to this role, Dave had an extensive career in the RCMP with his last position being a Chief Superintendent (C/Supt.) and the Officer in Charge of the Burnaby RCMP Detachment, the second largest RCMP detachment in Canada.

Dave joined the Royal Canadian Mounted Police in January of 1982 and his career spanned over 34 years and took him across Canada and abroad in various policing capacities. He has extensive public safety experience at the Municipal, Provincial, Federal and International levels, and has represented the City of Burnaby and the RCMP at the international level on both complex criminal investigations and major events such as the Olympics and G8 Summits. Dave was also deployed to Kabul Afghanistan for one year as the Senior Canadian Police Commander and provided Operational Command over the Canadian Police Contingent as they provided training and mentoring to the Afghan National Police.

He has studied at the University of Lethbridge, Royal Roads University in Victoria where he obtained a MA in Human Security and Peacekeeping, and the Canadian Forces College in Toronto. Dave has been appointed as a Member of Order of Merit of the Police Forces (M.O.M.) and been awarded the Operational Service Medal South-West Asia (OSM-SWA), the Queen's Golden Jubilee Medal (QGJM) and the Queens' Diamond Jubilee medal (QDJM).

Dave and his wife Debra reside in Ocean Park, South Surrey and enjoy spending time with their two grown daughters and their families. Dave especially enjoys spending time together exploring the outdoors and the Pacific Northwest coast on their 48 foot sailboat "Ohana".
---
Share this Product
---
More from this collection